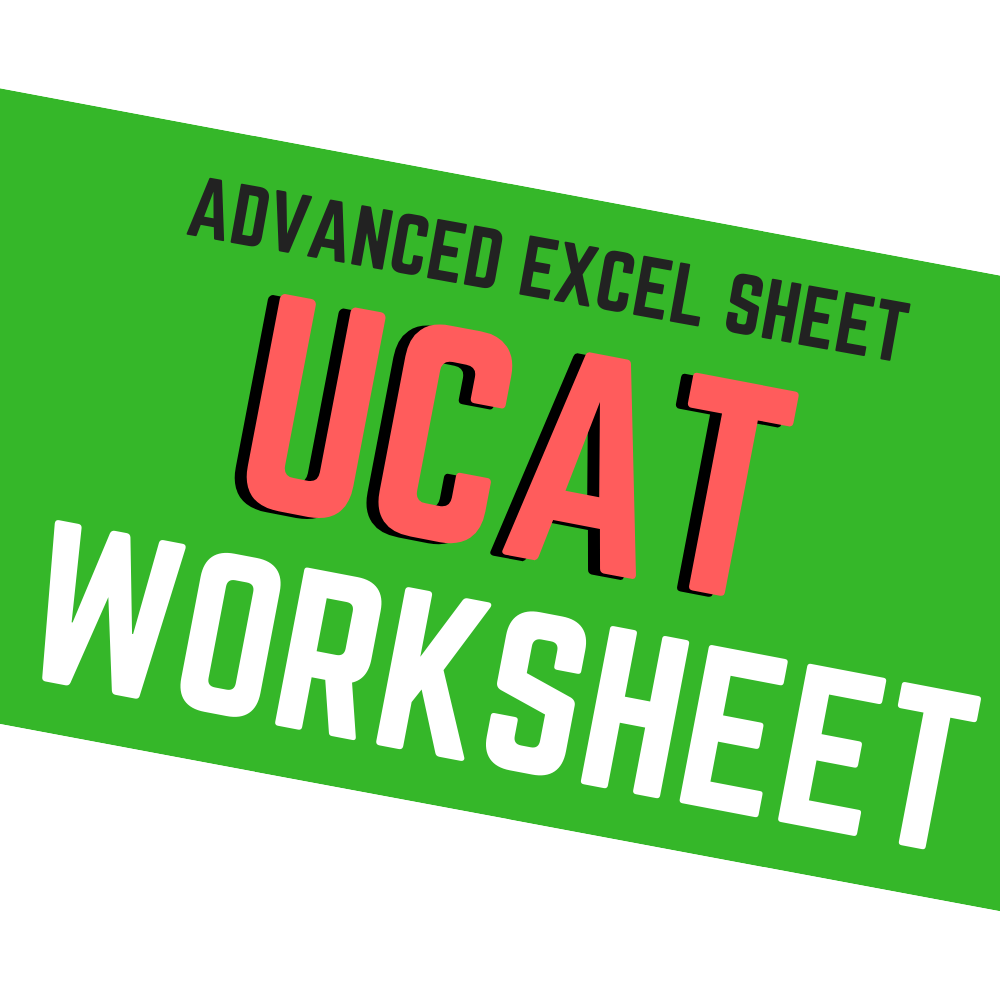 UCAT WORKSHEET
SKU 006
Product Details
The UCAT worksheet is an advanced excel spreadsheet to help you stay on top of your research when deciding the Medical or Dental Schools best suited to apply based on your grades and UCAT score.


I created something similar when I applied to medical school, and I strongly believe being organised and strategic had a huge part to play in getting FOUR offers for medicine.

In addition, the spreadsheet lets you record and track your UCAT practice. This is extremely valuable when using UCAT practice books, you take an evidence-based approach by keeping a log of questions you answer wrong. Therefore can spot patterns, challenge assumptions and process what you've learned into deeper memory.


---
What to Expect:


1. University Research Template
An effective template to help with researching into how universities use the UCAT/UCAT ANZ/UCAT ITALY. Record the minimum and cut-off UCAT scores, Number of Places and Applications ( the spreadsheet automatically calculates the application:places ratio). Use the information gathered during research to decide the best places to apply based on the outcome of your UCAT score. Includes links to the respective university's website and courses.
2. University Contact Details
We have provided links and contact details to every Medicine/Dentistry admissions team part of the UCAT/UCAT ANZ Consortium, so it easier to get in contact if you have any queries or you are unsure of anything.
3. Weekly Study Planner

Plan UCAT study sessions and monitor time spent preparing for each section of the test.
4. Practice Questions Log

Draw pattens from incorrect questions attempted during practice with books or online courses. We have provided simple graphs to help spot weakest subtest and view performance.
5. Mini-Test/ Full Mock Log
Draw patterns from testing conditions. Monitor and track performance during timed UCAT practice and mini-mocks.
6. Supplements UCAT Resources with Practice Questions
The Spreadsheet supplements any UCAT book and online course, whether you are using the official questions, Get into Medicine 1250 book, Medify, Kaplan, Uniadmissions, Medic Mind, etc. Log questions that you answer wrong, skipped or guessed to spot patterns in performance.

14-Day Money Back Guarantee. Try Risk-Free
---
Save this product for later