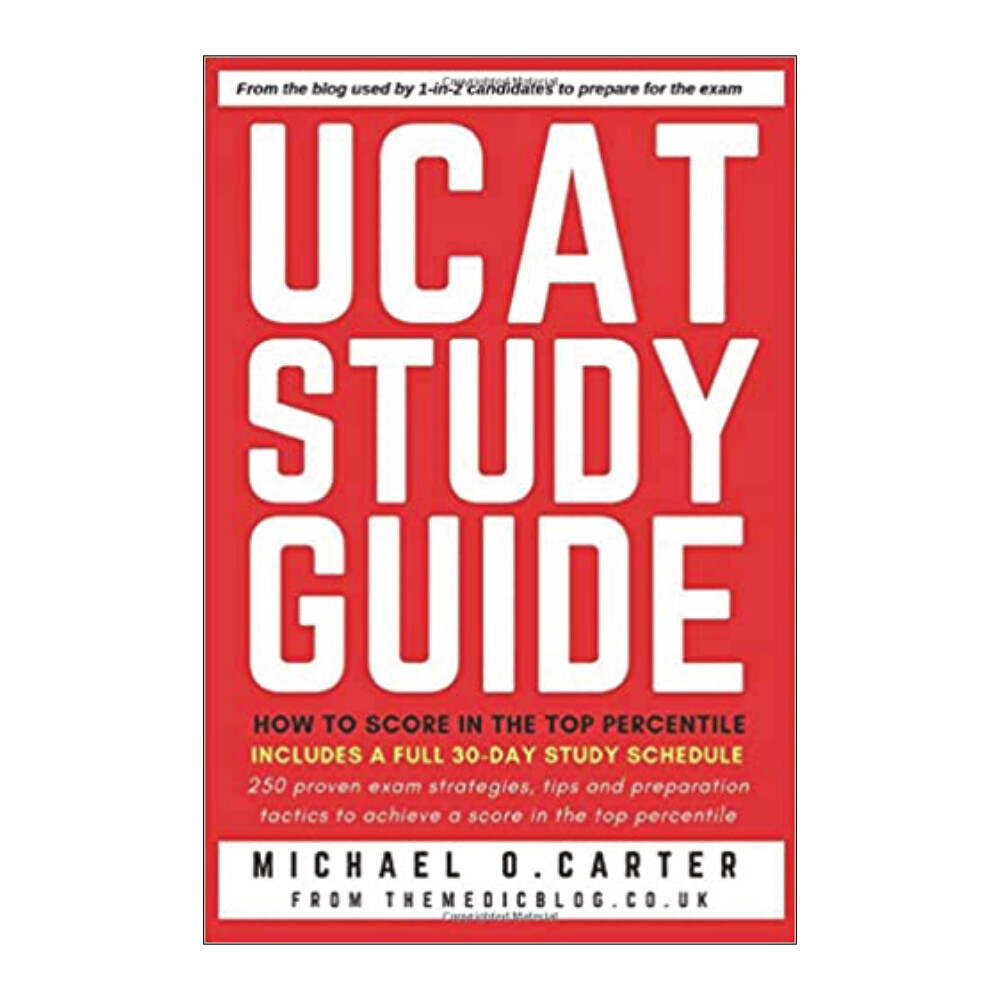 UCAT Study Guide: How to score in the top percentile (ebook)
SKU USG010
Product Details
This book is the second edition of the UKCAT Study Guide: How to Score in the Top Percentile. It has been updated and expanded to cover all the key skills and concepts needed to pass the University Clinical Aptitude Test (UCAT).


Which of these problems relate to you?
⚠ Not sure where to start with UCAT revision?
⚠ Practising loads of UCAT questions and seeing zero/little improvement?
⚠ Struggling to improve accuracy in each subtest?
⚠ Struggling with core skills like syllogisms, logical puzzles or dealing with inference problems?
⚠ Struggling with pacing or finishing each subtest on time?
These are some of the most common issues students face when preparing for UCAT test. We have created the first ever UCAT book to combat them directly. This book shares 250+ strategies and tactics to improve your performance in each subtest recommended by over 60+ past candidates. From reading strategies for the Verbal Reasoning subtest to pattern finding strategies in the Abstract Reasoning, this book has got you covered.
Created by Michael O. Carter, founder of the MEDIC BLOG, a free self-study blog used by 1-in-2 candidates that took the exam in last year. Michael achieved a UCAT score in the top 10% and through his blog he shares tips and advice for passing the exam. He has created this step-by-step UCAT study guide to act as a "virtual tutor"to kickstart you into constructive studying.
The new edition is now 3 books in 1 includes a Preparation Guide, Study Schedule and Strategy Book.
What to Expect:
★ Step-by-Step preparation guide
★ 200+ strategies, tips and techniques for each subtest
★ Day-to-Day study schedule with exercises and tips from top scorers
★ Comprehensive study checklist
★ Exclusive and additional content from the blog
★ Access to study group on Facebook (includes hundreds of students)
Benefits using this Guide:
✔ Study more effectively for the UCAT
✔ Avoid mistakes made by most candidates
✔ Develop an evidence-based approach to preparing for the exam
✔ Develop an effective game plan for each subtest
✔ Learn and hone proven strategies to implement on test day
All you need is this book and some practice questions.Supplement with practice question books and/or an online UCAT course. Ideal preparation guide for the UCAT UK, UCAT ANZ and UCAT ITALY.


Paperback available on Amazon


Australia and New Zealand:
Coming soon
UK and Ireland:

Save this product for later