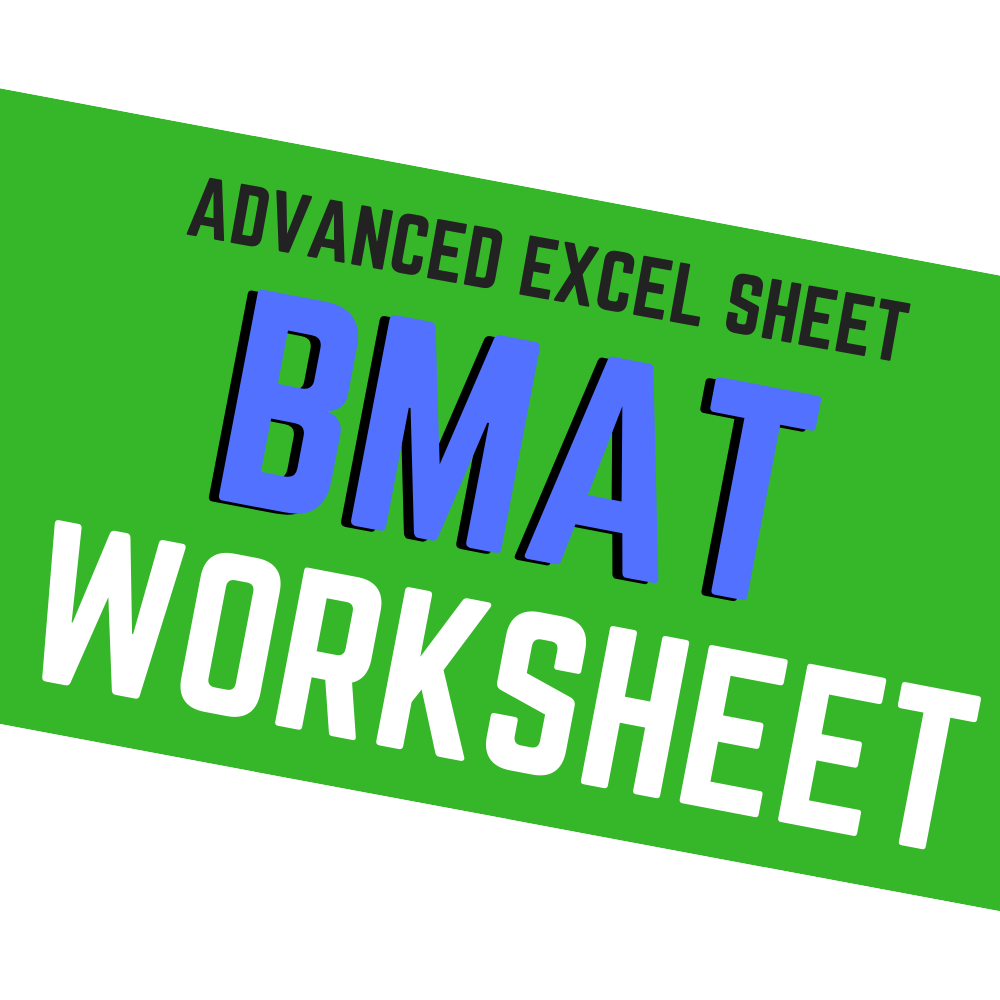 BMAT WORKSHEET
SKU 007
Product Details
Latest Version Available in 2019


The ultimate BMAT toolkit to help you study and work more effectively.


How many of these situations sound familiar to you?
Practising loads of BMAT questions and not seeing any improvement.

Forgetting tips or techniques you learned at the initial stages of revision.

Poor organisation and consolidation of materials used to prepare for the BMAT.

Not sure how good your chances are of getting into medical school based on your results.
These are some of the most common issues students face when preparing for BMAT! We created this BMAT worksheet to allow you employ Reflective learning and an evidence-based approach to combat these issues and improve your performance in the exam.
---
Reflective Learning and the BMAT


The preparation cycle for a typical student looks something like the diagram below where they practice questions after questions without really spotting patterns in their performance.

There is nothing wrong with this approach but to really make the most of your preparation we recommend adopting an evidence-based approach where at every stage, through reflection, you can challenge your assumptions, ask new questions, make sense of your experience and process what you've learned into deeper memory. See an example below:
This approach is a proven technique to improve performance in the exam. We made the process easier by creating this worksheet.
---
How the Worksheet Works


The BMAT worksheet is a highly advanced excel spreadsheet that includes many built-in formulas and features that have been tried-and-tested by hundreds to candidates to date.


We have made it simple and straightforward.


The spreadsheet lets you record and track your BMAT practice. This is extremely valuable to assess your performance effectively, you can challenge your assumptions, ask new questions, make sense of results and process what you've learned into deeper memory.
The key features of the worksheet includes:


University Research


Keep on top of how medical schools use the exam and set a target practice score.

Study Planner


Set study goals, plan studying sessions and monitor time spent preparing for each section of the exam.



Study Journal


Compile study notes for each section of the BMAT.


Questions Log for BMAT Section 1 and Section 2


Draw pattens from questions attempted during practice. We have provided a unique tab for each BMAT section.


Mock Log


Draw patterns from testing conditions. Monitor and track performance during timed BMAT practice and mini-mocks.
---
Additional Features


Trackers and Charts


See you progress with the built-in trackers and statistical insight to make better use of your time.



BMAT Score Converter



Calculate BMAT score with the score converter for Section 1 and 2.
---
Save this product for later