MEDIC BLOG STORE
 Over 9000+ happy pre-med customers to date
---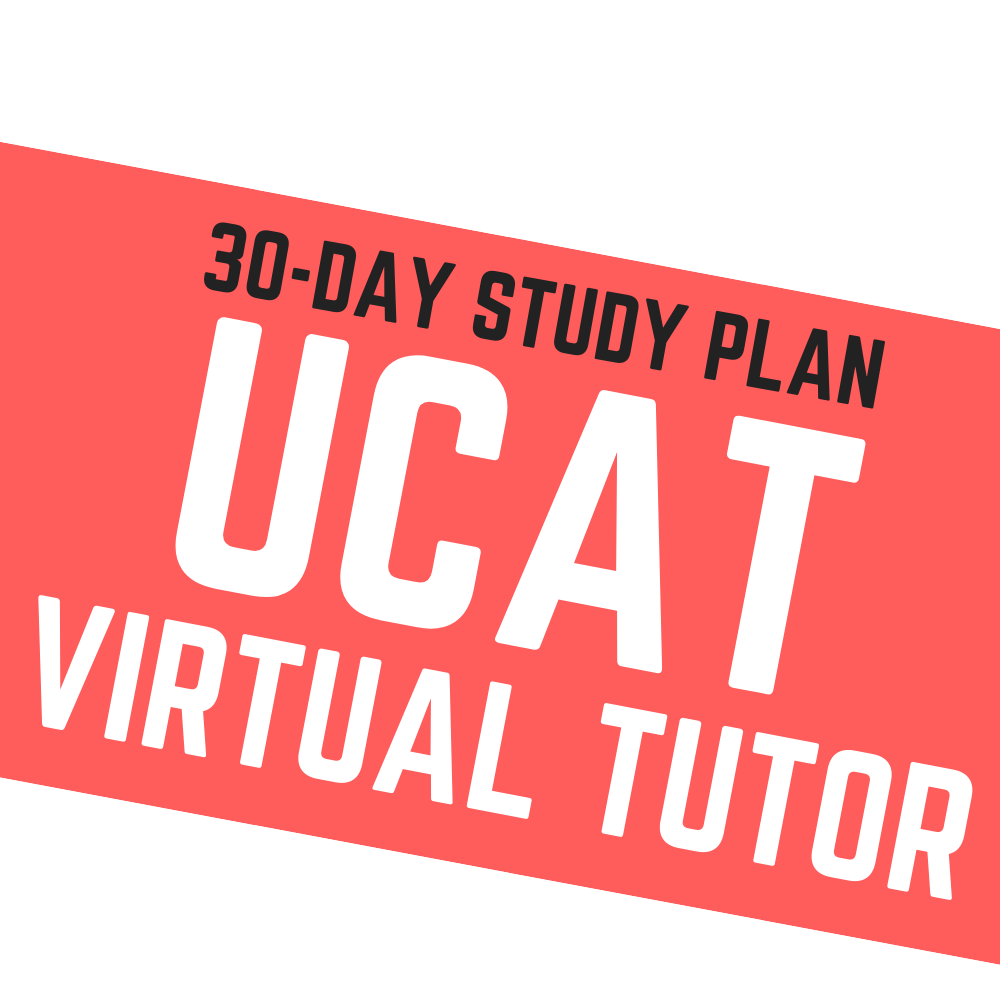 30-Day UCAT Virtual Tutor
SKU 002
Product Details
The UCAT Virtual Tutor is designed to get you from zero to scoring in the top percentile within 30-Days. Specially designed exercises to effectively spot weak areas and guide you into constructive studying.


The first UCAT course designed to act as a UCAT Tutor and Study Plan. Incorporates the preparation advice from over 100+ high scoring candidates that took the exam from 2015 - 2018. Tried-and-tested by over 2,000 candidates that took the 2018 UCAT exam with 100% positive feedback!
What to Expect:

1. Daily Personal Exercises:
No more than 3 hours of work per day. The personal exercises are designed to target your weaknesses and offer guidance as you prepare for the UCAT. This includes (not limited to) – attempting official questions, setting mini mock exams, performing Cross-Hatch analysis and SWOT analysis to help identify and improve weak areas.
2. Easy-to-Follow Preparation Guidance:
Each email is concise and provides easily-to-follow instructions to ensure you get the most out of your independent study sessions.

3. Further Reading & Recommended Content
Suggested reading materials from the MEDIC BLOG. Includes in-depth actionable exam strategies and preparation tactics.
4. 100+ Contributions from Other Top Scorers
Get additional preparation advice and exam tips from other past students that scored in the top 10%.
5. Supplements other UCAT Resources
The Virtual Tutor supplements any UCAT book and online course, whether you are using the official questions, Get into Medicine 1250 book, Medify, Kaplan, Uniadmissions, Medic Mind, etc. The virtual tutor structures your revision and teaches you how to get the most out of these resources to improve skill.
6. Supplements UCAT resources from the blog
We have designed the course to go hand-in-hand with our UCAT Study Guide, UCAT Checklist, UCAT Review Sheet, UCAT Game Plan and UCAT Worksheet. We have also included access to our UCAT Study Group on Facebook.
---
How Does the UCAT Virtual Tutor Work?

The UCAT Virtual Tutor works by leading you through a 5-step cyclic process that has been proven to successfully prepare for the exam. It includes:


Step 1: Recognise
This is the first step involves recognising your strongest and weakest areas in the UCAT. The course is designed to help identify this early on as it will dictate how you prepare for the exam.

Step 2: Prioritise

A lot of candidates fall into the trap of practising what they enjoy and are good at, whilst neglecting the areas they find more challenging! The course is designed to ensure you are constantly attacking weak areas and improving your score in the shortest time possible.
Step 3: Improve
The course includes links to articles and resources to help improve skill in each section. These include tips, techniques and strategies to put into practice. You can take full advantage of this by also getting our new UCAT study Guide at 10% Off when you subscribe to the virtual tutor.
Step 4: Practice

Whilst it is important to practice ALL sections of the UCAT, the course encourages you to focus more on the weak areas identified and put everything you have learned into practice.
Step 5: Evaluate

The course ensures you use a feedback loop to assess your progress over time and offers tips on what parameters to consider when assessing performance.
---
What You Will Need

14-Day Money Back Guarantee. Try Risk-Free
---
Save this product for later
Visit the blog for exam tips, techniques and advice. Study guides are only available on Amazon.