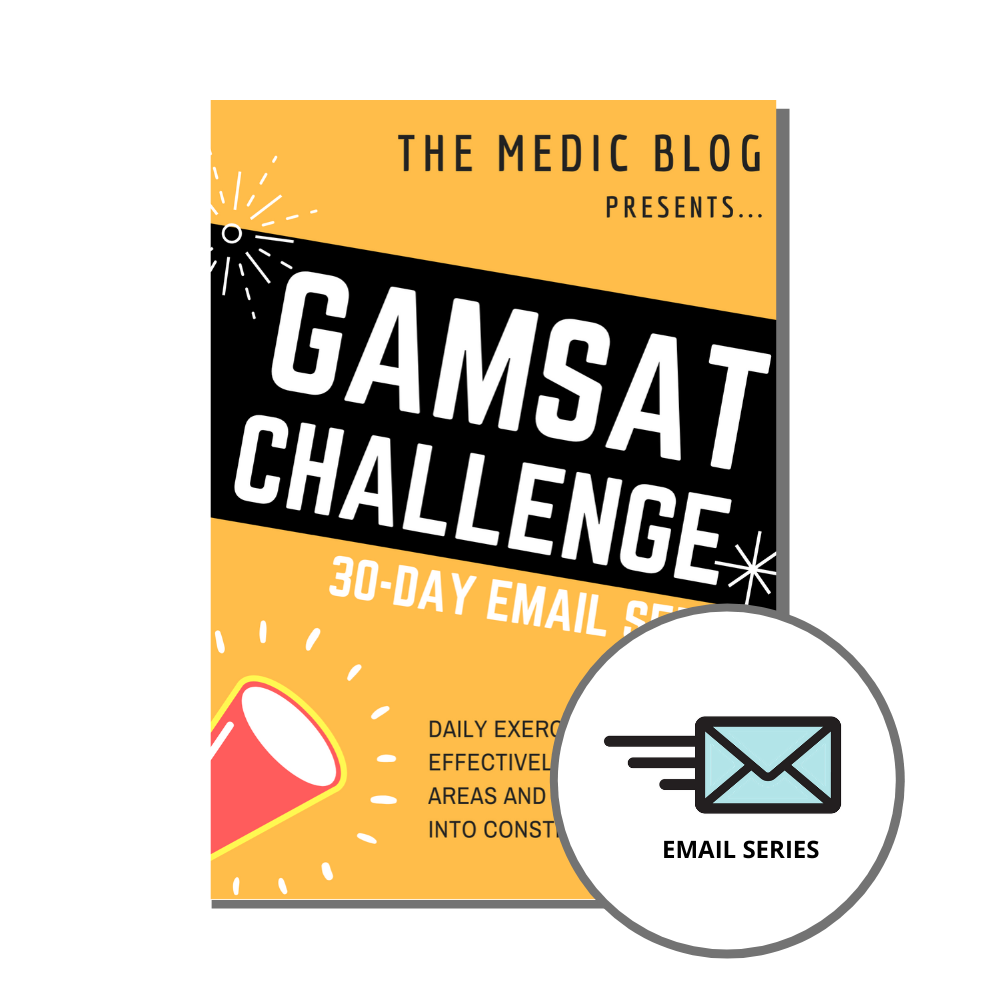 30-DAY GAMSAT CHALLENGE
SKU 001
Product Details
Daily exercises to effectively spot weak areas and kick start you into constructive studying.



Do these situations sound familiar to you...
Not sure where to start with your GAMSAT preparation?

Overwhelmed with the amount of advice provided online?

Not sure on the best attack plan for your GAMSAT study?


We have designed a 30-day GAMSAT challenge that has been tried-and-tested by hundreds of candidates to date.

---
How Does it Work?


The challenge is a 30-day email course that acts as study planner and virtual tutor to guide and structure your preparation for the GAMSAT 2019. It incorporates the preparation plan from over 100 high scoring candidates that took the exam (from 2015 -2018) to help structure your revision.


---
So what is this GAMSAT Preparation Plan?
Step 1: Recognise
This is the first step in the challenge and It involves recognising your strongest and weakest areas in the GAMSAT. The 30-day challenge is designed to help identify this early on as it will dictate how you prepare for the exam.

Step 2: Prioritise


A lot of candidates fall into the trap of practising what they enjoy and are good at, whilst neglecting the areas they find more challenging! The challenge is designed to ensure you are constantly attacking weak areas and improving your score in the shortest time possible.
Step 3: Improve


The 30-day challenge includes links to articles and resources to help improve skill in each section. These include tips, techniques and strategies to put into practice.
Step 4: Practice


Whilst it is important to practice ALL sections of the GAMSAT, the challenge encourages you to focus more on the weak areas identified and put everything you have learned into practice.
Step 5: Evaluate


The challenge is designed to assess your progress over time and offers tips on what parameters to consider when assessing performance.
---
Contribution from high scoring candidates


Contributors are successful candidates that have taken the GAMSAT in the last 5 years and aced it! from past candidates who have scored in the top 10% to others who have taken the exam more than once before significantly improving their score.

The goal is to effectively identify weak areas in the exam and create an action plan for the remainder of your preparation
We don't expect you to complete revision in 30-days only to have a well-thought out 'plan for action' based on your individual strengths and weaknesses.
---
Testimonials

The challenge has been taken by over 320 candidates to date. Here are some of the most recent testimonials:

"By far the most helpful resource I used to prepare for the GAMSAT. I would strongly recommend"
- Jo Summers, GAMSAT 2018
"I got the GAMSAT score I hoped for! I wouldn't have been able to do it without the challenge It gave structure to my revision and helped me identify weak areas to focus on for the exam"
- Jaden Balmen, GAMSAT 2018


"I ended up doing two exercises per day as I was busy with work but I managed to catch up and complete all the exercises in time. It was a game changer and made the difference in my final score"
- Thomas Gover, GAMSAT 2018


"Amazing resource! It was like having a virtual GAMSAT tutor. Out of all the materials I used to prepare for the GAMSAT the challenge was the most helpful. Thank you for including me in the beta version, I got an 81 average "
- Shyam Gill, GAMSAT 2018
---
What to Expect


Flexible - Start challenge whenever you want

Daily exercises sent to inbox over 30 days

No more than 2-4 hours of work required per day

Exclusive tips and advice

Weekly Homework

Recommended readings and resources to improve
---
What You Will Need


A designated notebook

GAMSAT Practice Questions

Other GAMSAT Resources (for conceptual learning)
---
Last but not Least


Access to private Facebook Study Group and a chance to win a free 1-to-1 consultation to review personal statement and help prepare for the exam.
---
Save this product for later