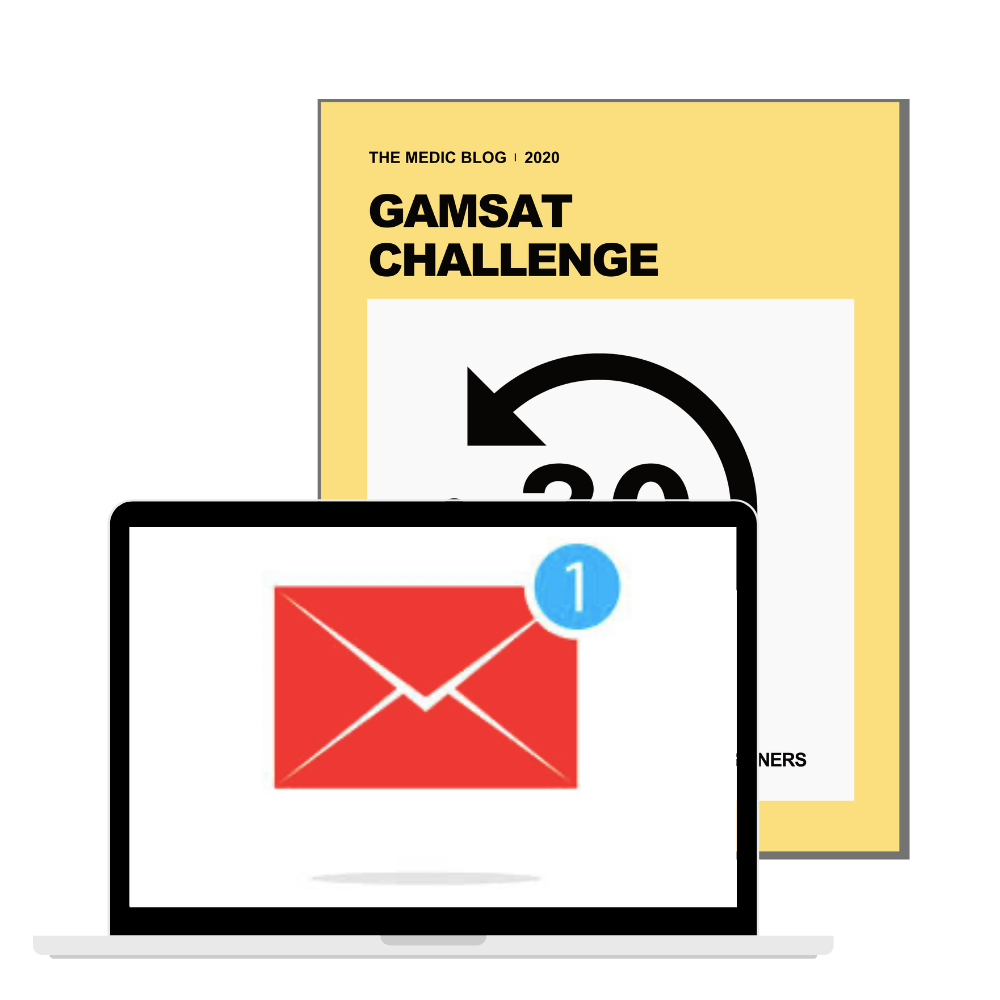 30-Day GAMSAT Challenge (Email series)
SKU G0003
Product Details
The 30-Day GAMSAT Challenge has been designed to help provide guidance in completing the Official ACER GAMSAT practice questions and teaches how to spot fallacies in your reasoning which can be applied to the remainder of your revision.


The challenge includes contributions from over 120+ students that took the exam in the last 5 years. Contributors are successful candidates that have taken the GAMSAT and aced it! from past candidates who scored 70+ on their first try to others who have taken the exam multiple times before significantly improving their score.



How it Works

The challenge includes day-to-day personal exercises to structure the beginning of your GAMSAT preparation and teaches strategies you can adopt for the remainder of your revision.
What You'll Need

*Any lined notebook will do, you can support us by using one of the GAMSAT lined notebooks we've designed.


Resources included with Free Version
Is it Right for You?

We created the 30-Day challenge to help kickstart GAMSAT preparation and ensure students move away from focussing on the 'content' in the test papers. You will learn how to analyse the ACER papers and review your performance effectively. This insight will allow you to pinpoint weak areas, and where necessary, refine your reasoning process.


Though we have included grace days, the free email series is designed to insert urgency and relies on students committing at least 10 - 15 hours of self-directed learning per week.


This course may be right for you if one or more of the following applies:
Not sure where to begin with preparation.

Overwhelmed with information and advice provided online.

Not sure of the best attack plan for study.

Not seeing any improvement in performance.

Want a structured revision programme.

Help with staying on track & motivated with revision.


Want to learn self-study prep strategies and tactics for each section.

The course is probably NOT right for you if one of the following applies:

Want additional GAMSAT practice questions & practice tests.

Want content material for Section I.

Want content material for Section II.

Want content material for Section III.


Taken the GAMSAT already and scored a 70+ average.

Looking for tutoring services.

Unable to dedicate 10 hours of self-study per week.


The course DOES NOT provide practice questions or strategies to use in the live test. It is SOLELY focussed on preparation strategy. The reason for this is because there are already comprehensive resources that provide learning material required for the GAMSAT, many of which are free.
Free vs Premium version
*Sponsored content - we partner with highly recommended tutors and companies to promote their resources. We only work with third-parties that have been recommended by our readers. All sponsored content in the email series are highlighted.
Last but not Least
Upon completion please leave a review* for a chance to win a Google Home Mini smart speaker. Other exclusive competitions are included when you sign up.
*Reviews are collected and posted independently. Winners are selected at random and not predicated on leaving a positive review. We encourage critical reviews to improve our resources.


Save this product for later